The Town of Rab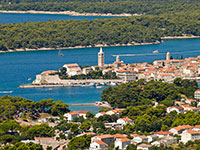 The special part of the island is the medieval Town of Rab, over 200 years old with well preserved town walls. The town is dominated by the four bell towers which are also one of its symbol. You can enter in two bell towers and enjoy in beautiful view. On the entrance of the Old Town you will be welcomed by the Square of Saint Christopher (patron saint of the island) on which is placed a fountain with two sculptures: Kalifront and shepherdess Draga (legend about unfortunate love). The city is characterized by three longitudinal streets (Gornja – Upper, Srednja – Middle, Donja - Lower) which are connected with smaller streets. The sightseeing of Rab is similar to a walk through past centuries that left their traces in many palaces, churches, crests... Along the town walls there is park Komrčar, under which is a beautiful promenade where you can spend pleasant hours in the shade of the pine trees and smell of the sea.
Culture
You will experience pleasant moments in numerous musical and theatrical events on the indoor and outdoor. Many galleries and street exhibitions are also interesting. The special attraction on the Island of Rab is knightly tournament of crossbowmen (09. 05., 30. 05., 27. 07., 15. 08.) and Rapska Fjera (Mediaeval Festival). During the Festival the Old Town turns into mediaeval town. About three hundred costumed Rab inhabitants, members of various associations try, using the old crafts, to show the guests how was to work, eat and have fun in the old times. The program lasts for three days (25., 26. and 27. 07.) and it takes place in the evening.
Gastronomy
One of the pleasures on the Island of Rab is healthy Mediterranean cuisine with many dishes such as fresh fish, shells and prawns. One of the specialities is renowned Rapska torta (Cake of Rab) which is prepared by the eight century old recipe and it is the favourite desert among the guests but also one of the most interesting island souvenirs.